Page 6 - 6028 MinotIH40
P. 6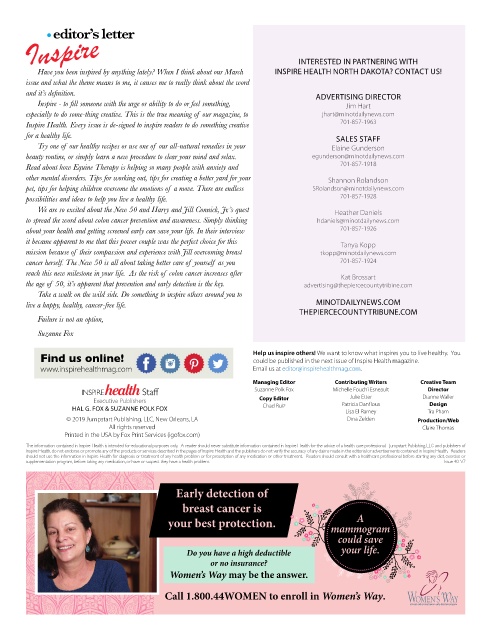 editor's letter
         Inspire


                                                                            INTERESTED IN PARTNERING WITH
            Have you been inspired by anything lately? When I think about our March   INSPIRE HEALTH NORTH DAKOTA? CONTACT US!
         issue and what the theme means to me, it causes me to really think about the word
         and it's definition.                                                   ADVERTISING DIRECTOR
            Inspire - to fill someone with the urge or ability to do or feel something,   Jim Hart
         especially to do some-thing creative. This is the true meaning of  our magazine, to   jhart@minotdailynews.com
         Inspire Health. Every issue is de-signed to inspire readers to do something creative   701-857-1963
         for a healthy life.                                                         SALES STAFF
            Try one of  our healthy recipes or use one of  our all-natural remedies in your   Elaine Gunderson
         beauty routine, or simply learn a new procedure to clear your mind and relax.   egunderson@minotdailynews.com
         Read about how Equine Therapy is helping so many people with anxiety and     701-857-1918
         other mental disorders. Tips for working out, tips for creating a better yard for your   Shannon Rolandson
         pet, tips for helping children overcome the emotions of  a move. There are endless   SRolandson@minotdailynews.com
         possibilities and ideas to help you live a healthy life.                     701-857-1928
            We are so excited about the New 50 and Harry and Jill Connick, Jr.'s quest   Heather Daniels
         to spread the word about colon cancer prevention and awareness. Simply thinking   hdaniels@minotdailynews.com
         about your health and getting screened early can save your life. In their interview   701-857-1926
         it became apparent to me that this power couple was the perfect choice for this   Tanya Kopp
         mission because of  their compassion and experience with Jill overcoming breast   tkopp@minotdailynews.com
         cancer herself. The New 50 is all about taking better care of  yourself  as you   701-857-1924
         reach this new milestone in your life.  As the risk of  colon cancer increases after   Kat Brossart
         the age of  50, it's apparent that prevention and early detection is the key.    advertising@thepiercecountytribine.com
            Take a walk on the wild side. Do something to inspire others around you to
         live a happy, healthy, cancer-free life.                               MINOTDAILYNEWS.COM
                                                                            THEPIERCECOUNTYTRIBUNE.COM
            Failure is not an option,
            Suzanne Fox


             Find us online!                                     Help us inspire others! We want to know what inspires you to live healthy.  You
                                                                 could be published in the next issue of Inspire Health magazine.
             www.inspirehealthmag.com                            Email us at editor@inspirehealthmag.com.
                                                                 Managing Editor     Contributing Writers   Creative Team
                       INSPIRE        Staff                      Suzanne Polk Fox    Michelle Fouchi Esneault    Director
                          Executive Publishers                    Copy Editor            Julie Etter       Dianne Waller
                                                                                                            Design
                    HAL G. FOX & SUZANNE POLK FOX                  Chad Ruiz           Patricia Danflous    Tra Pham
                                                                                        Lisa El-Ramey
                   © 2019 Jumpstart Publishing, LLC, New Orleans, LA                    Dina Zelden      Production/Web
                             All rights reserved                                                           Claire Thomas
                   Printed in the USA by Fox Print Services (igofox.com)
         The information contained in Inspire Health is intended for educational purposes only.   A reader should never substitute information contained in Inspire Health for the advice of a health care professional.   Jumpstart Publishing, LLC and publishers of
         Inspire Health, do not endorse or promote any of the products or services described in the pages of Inspire Health and the publishers do not verify the accuracy of any claims made in the editorial or advertisements contained in Inspire Health.   Readers
         should not use the information in Inspire Health for diagnosis or treatment of any health problem or for prescription of any medication or other treatment.   Readers should consult with a healthcare professional before starting any diet, exercise or
         supplementation program, before taking any medication, or have or suspect they have a health problem.                                                                                                                                                                     Issue 40  V7

                                              Early detection of

                                                breast cancer is
                                                                                          A
                                            your best protection.                   mammogram

                                                                                      could save
                                                 Do you have a high deductible         your life.
                                                      or no insurance?
                                            Women's Way may be the answer.

                                           Call 1.800.44WOMEN to enroll in Women's Way.